3

Morpho-kinematic model

We have used the morpho-kinematic modeling program SHAPE (version 5.0) described in detail by Steffen & López (2006) and Steffen et al. (2011). This program has been used for modeling many PNe, such as NGC 2392 (García-Díaz et al., 2012), NGC 3242 (Gómez-Muñoz et al., 2015), Hen 2-113 and Hen 3-1333 (Danehkar & Parker, 2015b). It uses interactively molded geometrical polygon meshes to generate three-dimensional structures of gaseous nebulae. The program produces several outputs that can be directly compared with observations, namely position-velocity diagrams, velocity channels and synthetic images. The modeling procedure consists of defining the geometry, assigning a density distribution and defining a velocity law. Geometrical and kinematic parameters are modified in a manual interactive process until a satisfactorily fitting model has been constructed.

Figure 4 (a) shows the morpho-kinematic model before rendering at two different orientations (inclination: 0
and 90
), and their best-fitting inclination, together with the result of the rendered model. The morpho-kinematic model consists of an equatorial dense torus (main shell) and a pair of asymmetric bipolar outflows. The values of the parameters of the final model are summarized in Table 4. For the velocity field, we assume a Hubble-type flow (Steffen et al., 2009).
The velocity-channel maps of the final model are shown in Figure 4 (b), where they can be directly compared with the observed velocity-resolved channel maps presented in Figure 3. The model maps are a good match to the observational maps. The model successfully produces two kinematic components of the jets moving in opposite directions on both sides of the torus. From the morpho-kinematic model, we derived an inclination of
with respect to the line of sight. Taking the inclination derived by the best-fitting model, we estimated a "jet" expansion velocity of

kms
with respect to the central star.
Figure: Top panels: SHAPE mesh model of M2-42 before rendering at two different orientations (inclination: 0
and 90
), the best-fitting inclination, and the corresponding rendered image, respectively. Bottom panels: Synthetic images at different velocity channels obtained from the best-fitting SHAPE model.
(a) SHAPE model
(b) Velocity channels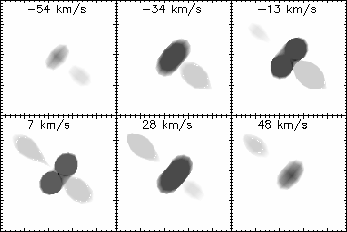 Table: Parameters of the morpho-kinematic model of M2-42.

| | |
| --- | --- |
| Parameter | Value |
| Inclination of major axis, | |
| Position angle of major axis, PA | |
| Galactic position angle of major axis, GPA | |
| Outer radius of the main shell | arcsec |
| NE Jet distance from the center | arcsec |
| SW Jet distance from the center | arcsec |
| Jet velocity from the center | kms |
As seen in Table 4, the symmetric axis of the bipolar outflows has a position angle (PA) of

measured from the north toward the east in the equatorial coordinate system (ECS). This leads to a Galactic position angle (GPA) of

. The GPA is the position angle of the nebular symmetric axis projected on to the sky plane, measured from the North Galactic Pole toward the Galactic east. Note that

describes an alignment with the Galactic plane, whereas
is perpendicular to the Galactic plane. Therefore, the symmetric axis of M2-42 is roughly aligned with the Galactic plane. This alignment could have some implications for other studies of GBPNe (see e.g. Falceta-Gonçalves & Monteiro, 2014; Rees & Zijlstra, 2013; Danehkar & Parker, 2015a).
Ashkbiz Danehkar
2018-03-28